Tobias Linden is a director and cinematographer based in Germany. He first started making films at the age of 14 and even shot his first corporate videos shortly after. As a result, he quickly decided never to stop learning more about the art and technique of filmmaking, which ultimately led him to study Film & Animation.
Highly fascinated by the power of visual storytelling and writing, Tobias took part in a 3-month screenwriting program at the prestigious University of California, Los Angeles. During this period, however, he realized that most of his stories and ideas were highly visual in nature. In fact, composition, color, lighting, and mood were as important to him as the written line of dialog and still are to this day. This background now lends him a unique perspective when shooting and directing commercials, music videos and short films.
His national and international work includes brands such as Lexus, Britax Römer, Uni Polster and Trösser.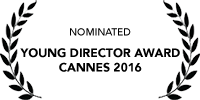 ___
RED EPIC-W HELIUM 8K Camera Package available